Soft Tissue Therapies at Get Well Be Well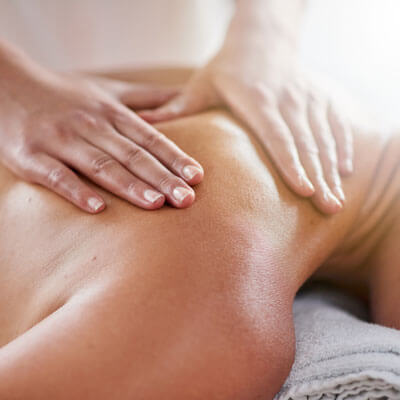 At Get Well Be Well, we offer soft tissue therapies to augment your chiropractic care.
Massage Therapy
Therapeutic massage helps get the soft tissues into good working order and decreases tension that causes pain. Massage and chiropractic care work well together, allowing the muscles, bones and joints to regain proper range of motion. In addition to pain relief and improved range of motion, massage therapy may offer additional health benefits, such as:
Lymphatic drainage
Decreased tension
Improved mobility
Increased range of motion
Stress relief
Our licensed massage therapist offers a variety of massage techniques and will tailor your massage to your specific needs. She will collaborate with your chiropractor to help ensure the optimal results for your condition, and she also intuitively knows where your body is in need of support. We typically suggest receiving your massage first, followed by your chiropractic adjustment. Please wear comfortable clothing and no jewelry.
Some of the techniques we offer include:
Swedish massage
Deep tissue massage
Cupping
And more!
60 minute massage: $80
90 minute massage: $120
Cupping is an add-on with an additional fee.
Dry Needling
Dry needling uses acupuncture needles, but with a different approach than acupuncture. Dry needling is problem-focused and uses the needles to impact the soft tissues of the affected area. Needles are inserted into the soft tissues or joints, then electrified using our electrical muscle stimulation machine. This modality helps stimulate your body's own healing response to repair damaged tissue and more.
Studies show that dry needling done in conjunction with chiropractic care offers the best results, particularly when you start with three sessions fairly close together. Dry needling helps with:
Your chiropractor will recommend dry needling if she feels your individual situation can benefit from it. Please wear clothing that allows access to your problem areas, such as tank tops for shoulder issues or shorts for problems in the legs.
Craniosacral Fascial Therapy (CFT)
The basic premise of CFT is rooted in Dr.Andrew Still's basic osteopathic principle that the body knows best how to heal itself in space and time. Our objective is to facilitate healing by allowing the infant (person) to drive the movement. The Gillespie Approach is about listening. We listen to the craniosacral fascial strain patterns in the infant. Our therapeutic goal is to mitigate the effects of any birth trauma that may have restricted the craniosacral fascial system. We believe that people do not have to suffer their whole lives because they had a difficult in utero /labor/delivery experience. Our mission is to restore optional function to the craniosacral fascia system so that every baby (person) can have a happier and healthier life ." -Dr.Barry Gillespie Founder of Craniosacral Fascial Therapy (CFT)
Book Today
Contact us today to get started with care. The entire team looks forward to meeting you!
CONTACT US »
---
Soft Tissue Therapies Gilbert AZ | (480) 219-1042